Building a Better Home
Schroeder Construction Technique Eliminates Thermal Bridges
In most construction, frame houses are sided with OSB, a structural board, and then wrapped in a vapor barrier. What happens is this kind of construction winds up acting as a conduit for heat loss and thermal migration, actually reducing your home's efficiency.
At Schroeder Homes, we eliminate the "Thermal Bridge" that is caused when OSB is attached directly to studs by utilizing 1″ Structural Insulated Sheathing.
We Use R-6 1″ Structural Insulated Sheathing
Exceeds 2018 IRC Building Codes for Shear Strength (including hurricane zones).
Our 1″ sheathing has a R-value of 6 versus 0 to 0.5 for OSB, a 1,100% increase in R-value.
Dramatically improves HERS scores and Blower Door tests.
Reduces Heating and Cooling costs by 20 to 40%.
The structural sheathing is produced in the USA from 70% Post-Consumer Recycled Materials.
Schroeder Chooses the Best Insulated Sheathing Available
This insulated sheathing starts with a non-reflective resilient exterior facer that provides water resistance and excellent durability. Each seam is carefully taped to seal the vapor barrier. The closed-cell, moisture-resistant foam core provides high compressive strength, providing longterm R-value and a continuous air barrier. Then a thin, high-pressure laminated interior layer provides even more structural support. Put it all together and you get the highest possible performance from your structural sheathing.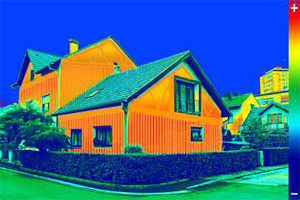 Thermal image of a structure built without insulated sheathing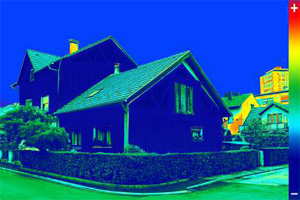 Thermal image of the same structure built with 1″ (R-6) of continuous insulation
If you are ready to build a better home, call Vicki Schroeder at 517-256-7230 to start planning your Dream Home!